Public beaches
Beach Kirkonkylä
There are various public beaches in Lestijärvi, where you can spend the day swimming and having picnics. One is located right in the centre of Lestijärvi and there is a peer, outdoor gym and a park for children to play in. The sandy, shallow lake is also safe for children to swim in. The central location makes it a perfect place for a quick dip between activities. At the moment beach Kirkonkylä is out of order because of the school construction.
Paranta beach
The public Paranta beach can be found approximately 4 kilometres out of the town centre, towards Kinnula. You will notice a sign next to the road when you are getting closer. In the Paranta beach there is a dressing room, a toilet and a hut, where you can barbecue food when the hunger hits after the long day of swimming. The beach in Paranta is also shallow and sandy so kids can easily swim and play in the water. There is a large grass area for picnics in Paranta and a free beach volley court as well as a park for children.
Also during summers there is a summer cafe, which sells ice cream, refreshments and snacks for the visitors. You can also find brochures, maps, postcards and other Lestijärvi souvenirs from the summer cafe.
Opening hours and more information on Paranta Ranta Cafe´s Instagram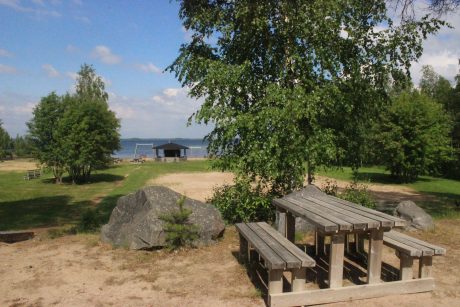 Beach Valkeinen
The beach Valkeinen is located about 10 kilometres from the town centre of Lestijärvi, close to the holiday centre. The beautiful white sanded beach is shallow and a great place for bringing your children for a swim. By the beach there are various activities available like minigolf and frisbee golf, a restaurant, sauna, a water slide and a park for children. You can also rent a cottage by the lake Valkeinen or come with your caravan, if you want to spend more than one day exploring around the hiking trails and sandy white beaches. You can also rent a boat and spend the day at the lake or rent a hot tub and relax watching the beautiful scenery.
More information on beach Valkeinen in Valkeisjärven leirintäalue´s website.