Venues for your own events
Yli-Lestin työväentalo
Yli-Lestin työväentalo can be rented out for your own celebrations. It is a perfect place for birthdays, weddings and plays or band nights as the main room has a big stage for different performances. In the building there is a kitchen and a large main room/ ball room. The venue has the capacity of 200 persons.
Phone: +35806867313
Website: https://www.seurantalot.fi/talot
Address: Lestijärventie 994, 69450 Yli-Lesti.
Riistaravintola Pikku Peura
Riistaravintola Pikku Peura is a catering restaurant open by reservation in the heart of Peuran polku nature trail. The restaurant is located right next to the lake Valkeinen and has amazing views, which makes it the perfect location for weddings or other celebrations. The restaurant has the capacity of 100 persons. Riistaravintola Pikku Peura is also operating as the information centre of Metsäpeuranmaa, which is includes the Peuran polku nature trail. The restaurant has a terrace and liquor licence. When booking the restaurant, you can choose to book only the venue or you can include catering to the service as well. The catering is not limited to the venue.
The owner of the restaurant also organizes many events in the restaurant and in the surrounding nature in Valkeinen so be sure to check out the social media!
Contact information
Phone: +358505141001
Website: https://www.pikkupeura.fi/
Address: Kinnulantie 695, 69450 Yli-Lesti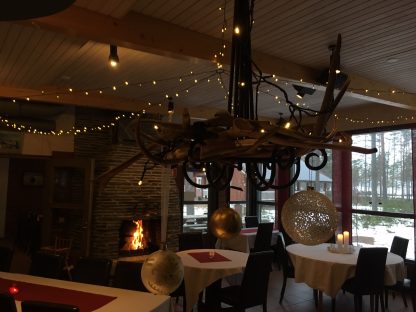 Korsukylä
The cute little village in the middle of the forest with its cottages, and saunas is called Korsukylä. It is located by the lake Iso-Ruonanen, which is located on the route of Peuran polku trail. In addition to the cottages, that can be rented out, there is a banquet hall where you can host festivities. The main banquet hall is perfect for hosting conferences, birthdays, bachelor parties or weddings.
In total, there is accommodation for 40 persons in Korsukylä. There is an additional benefit that if you book your accommodation in Korsukylä, you can freely use the boat by the lake. Lake Iso-Ruonanen is filled with fish, so you are bound to have some fisherman´s luck. Fishing in lake Ruonanen requires a permit so remember to buy yours beforehand from the caravan park of Valkeinen. Korsukylä is also reachable by car form the border road of Lestijärvi and Kinnula.
Contact information
Phone: +358405366931
Website: https://valkeisjarvenleirintaalue.fi/korsukyla/
Location: Google Maps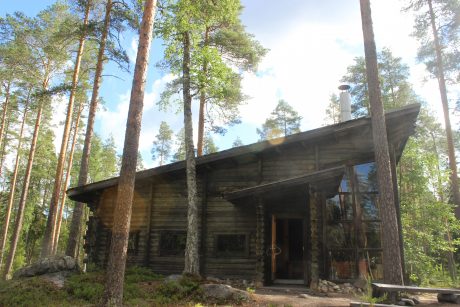 Valkeisjärven leirintäalue
Valkeisjärven leirintäalue has a conference room, which can be used for hosting events with maximum of 20 persons. This is the place to have your business meetings as the conference room also has a sauna and is located right by the lake Valkeinen. You can also order catering according to your request from Valkeinen.