Taste quality food and the best home made treats
Find our best restaurants, bakeries and cafes and taste the local delicacies.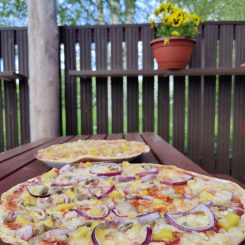 Saluuna Parila
Saluuna Parila is a restaurant and bar located in the town centre of Lestijärvi. Saluuna Parila serves delicious pizza, barbecue, salads, coffee, ice cream in the summer and other snacks. Saluuna Parila organizes many events and live music nights especially during the summer but also year round. The biggest events are the Midsummer and Muikkumarkkinat (=vendace market), which is every year on the last weekend of August. On the nights when there isn´t a band, you can sing karaoke. Saluuna Parila has also a nice terrace on the back, where you can enjoy the hot summer days with your friends.
More information on the opening hours, events and menu, check out Saluuna Parila´s Facebook.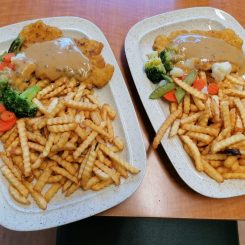 Valkeisjärven leirintäalue
Come enjoy Valkeinen! Valkeisjärven leirintäalue has a restaurant, which offers barbecue, pizzas and ice cream portions. If you are staying in a cottage by lake Valkeinen, stop by Valkeisjärven leirintäalue to pick up some snacks and basic groceries to your cottage. You can also order a breakfast, lunch, dinner or catering for your own celebration from Valkeisjärven leirintäalue. The restaurant also has a liquor licence and a terrace. There are different events and karaoke nights in Valkeinen during the summertime as well.
Valkeisjärven leirintäalue is a good starting point for the circle route around lake Valkeinen. There is also a friebeegolf and minigolf course in Valkeinen. If you rather relax, book a hot tub or a smoke sauna and take a dip in the crystal clear water of Valkeinen. There is something for everyone. Welcome!
More information on Valkeisjärven leirintäalue in their website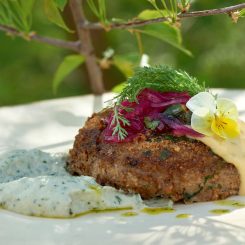 Riistaravintola Pikku Peura
Riistaravintola Pikku Peura offers quality catering services in a atmospheric restaurant by the lake Valkeinen. Riista Ravintola Pikku Peura is located next to Valkeisjärven leirintäalue and on the route of the 115km long Peuran polku nature trail. The restaurant can be booked for events, meetings, weddings and such or the catering can be ordered to your own celebrations at home. The restaurant has a conference room, a ball room and a liquor licenced bar. This venue is a top notch choice from a wedding or a birthday celebration! The owner also organizes different events in Valkeinen and in the surrounding nature. Taste the authentic flavors of nature in Pikku Peura and book the restaurant or catering from Riistaravintola Pikku Peura´s website.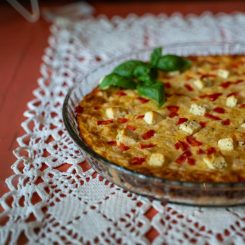 Summer cafe & B&B Jukola – Kesäkahvila & Majatalo Jukola
Summer cafe Jukola is located in the town centre of Lestijärvi right by beach at lake Lestijärvi. Summer cafe Jukola serves both salty pastries and sweet cakes and ice cream portions as well as specialty coffee like espresso, latte, ice coffee and cappuchino. For tea drinkers there are also different options and a specialty ice tea. In the cafe there is also a gift shop where you can purchase local products, handcrafts, jewellery and art and souvenirs from Lestijärvi.
You can also spend the night in Summer cafe and B&B Jukola. In addition to the main building, there are two separate smaller cottages where people can stay so in total there is enough room for 15 persons. In the yard, next to the lake there are two saunas, a smoke sauna and a traditional one. There are different yard games and a beach volley court in Jukola for playing with friends and family or you can rent a SUP-board or a boat and spend the day at the lake.
There will be also all kind of events happening in Summer cafe & B&B Jukola, so stay tuned.
Follow Summer Cafe & B&B Jukola in social media!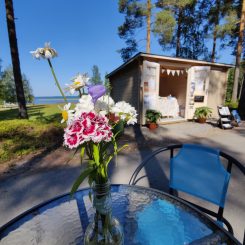 Paranta beach cafe – Paranta Rantakafé
Paranta beach cafe is located at the Paranta beach. Paranta beach cafe serves refreshments, ice cream, coffee and pastries. You can also find the Lestijärvi travel broshures, Lestijärvi products and the maps of Lestijärvi and Metsäpeuranmaa from the Paranta beach cafe. Can you already feel the plesent summer water of the lake, the sand in our feet and taste of cold ice-cream on a hot day?
Welcome to spend a lovely day at the beach Paranta!
Follow Paranta Rantakafé in social media!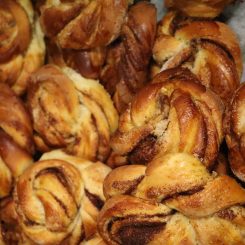 Pullapuoti
The best home made delicacies can be bought from Pullapuoti on Thursdays. Pullapuoti sells home made breads, sweet buns, soups, pizzas and much more. The mouth watering goods can be bought home if you are fast enough as the bakings are so popular there tends to be a line all the way outside. Pullapuoti is open every Thursday 11.00-13.00.
Phone 040 5935660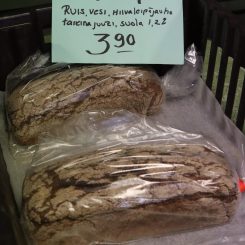 Onnelan pitopalvelu
The owner of Pullapuoti, Merja Jormalainen, also owns a catering company called Onnelan pitopalvelu. So if you missed your chance on Thursday for the mouth watering goods of Pullapuoti, you can order the food from the catering straight to your home.
Phone 050 596 6268